Opening Ceremony of Hue Science Festival 2014 – 11 April 2014
23-04-2014
(Source:
HUMP
)
Having the permission of Thuathien-Hue People's Committee, the Opening Ceremony of Hue Science Festival 2014 with the theme "Medical Achievements toward Community Health" was conducted in the morning of April 11 at Hue Learning Resource Center by Hue University of Medicine and Pharmacy. Hue Science Festival 2014 has continously took place during 7 days, from April 11 to 14 aiming to strengthen the approach of scientific areas serving community health.
Attending the ceremony were Mr. Ngo Hoa, Member of Provincial Party Committee, PPC Standing Vice-Chairman, Head of Organization Committee of Festival Hue 2014; Representatives of Thuathien Hue and Hue Departments of Propaganda and Training, of Provincial Departments, Hue Central Hospital, Hue University and its belonging Units as well as leaders of Hue University of Medicine and Pharmacy and its hospital, its departments and functional offices/units, all PhDs graduated since 2012, in particular approximately 100 postgraduates specialized in OBGYN, internal medicine, pediatrics, public health, functional medicine and biomedicine. The international delegates included 22 professors, doctors and PhD students from the University of Sassari (Italy), Queensland Univesity of Technology (Australia), University of Nagoya and Univesity of Kobe (Japan).

Included in the program of the opening ceremony, the 2nd international master's course on medical biotechnology, jointly organized by the Hue University of Medicine and Pharmacy, Vietnam and by the University of Sassari, Italy and the 3rd International PhD Students Science Symposium were officially opened. Also in this ceremony, 02 new PhDs trained in the University of Sassari were honorably offerred PhD degrees by Professor Claudia Crosio, Director of PhD School in biomolecular and biomedicine, University of Sassari.

Right after the opening ceremony was the inauguration of photo exhibition in Hue Learning Resource Center and this exhibition was displayed in Hue Learning Resource Center on April 11 and later in Hue University of Medicine and Pharmacy until the closing day 17. Hue Science Festival 2014 includes several international conferences: the 3rdInternational PhD Students Science Symposium on April 11, the International Endoscopy Conference on 12, the Regional Workshop on Cervical Cancer on 15 and finally the Seminar on how to use ClinicalKey, presented by Elsevier on 17.

2014 Hue Science Festival also has OFF program that brings lively and intimate atmosphere: Photo exhibition of medical achievements, poster exhibitions of DSA Center, Gastrointestinal Endoscopy Center, Community Health Research Institute, English contest and singing programs from Vietnam and Chile on the University campus in order to serve the patients, staffs and medical students and those who are interested.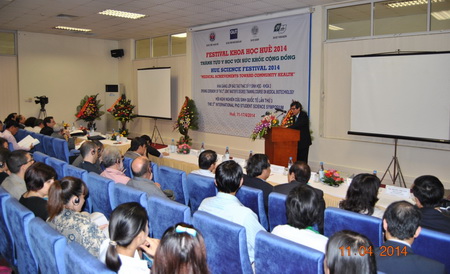 T